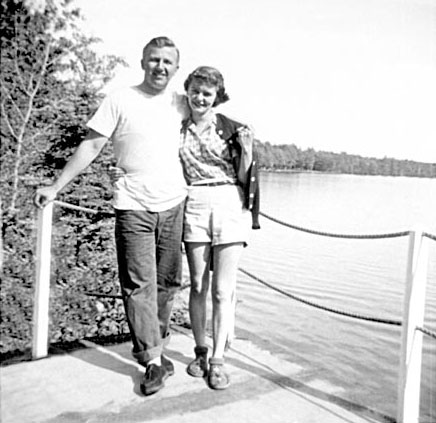 A little bit of Gordy's Hi-Hat History . . .
ABOUT GORDY'S
Native Duluthians Gordy & Marilyn Lundquist built the first A & W Root Beer Stand in Eveleth, Minnesota in 1950. Car-Hops served customers frosted mugs of root beer brewed on the premises and fresh, hand-pattied hamburgers on locally baked hamburger buns which had to be sliced by hand.
Those were the "good old days", where a family's entertainment was piling the family in the car and heading for a frosty mug of home-made root beer or great root beer floats. This was a seasonal business – open from Memorial Day through Labor Day.
In 1955, Gordy and Marilyn built the London Inn Drive Inn on London Road in Duluth. It was a popular gathering place for the Duluth High School students where they would drive in and sit on the hoods of their cars with radios blasting out Elvis or the Everly Brothers! You could get a hamburger, french fries & a shake for 57 cents!
The London Inn was so busy that the bakery would drive up the loaded bun truck and leave the whole load for us to work out of. The hamburgers were all pattied by hand daily, and the french fries were peeled, sliced, & blanched fresh before frozen french fries were available.
In 1960, Gordy & Marilyn built Gordy's Hi-Hat in Cloquet, which is now in its 59th season. Everything is done the same way – fresh hand-pattied hamburgers, home-made onion rings, fresh hand-dipped fish, and fresh blended shakes. Gordy and Marilyn, both in their 80's, are still active in the business. They live 6 months in Sarasota, Florida, and return every spring to the Hi-Hat for another season.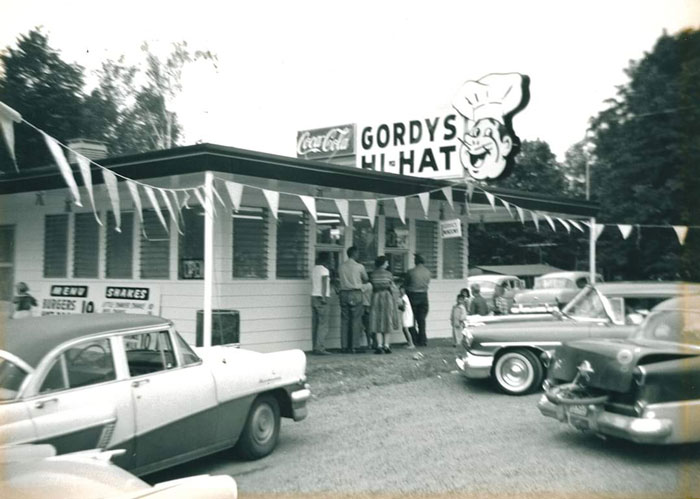 We have a certain nostalgic vibe for family tradition when it come to our customers. For years, our customers make special trips just to get in during our open season! Read what a few customers had to say about us:
"I would recommend that absolutely everyone stops at Gordy's Hi-Hat whenever they get the chance. The food is amazing, their service is fast and friendly, and the atmosphere is like no other. The burgers are delicious and the fish burgers are huge! Plus the shakes, fries, and onion rings are excellent! It's no wonder they've been in the business since 1960."
"If you like burgers, you have to stop at Gordy's Hi Hat in Cloquet!!! Seriously. I can not stress that enough. Their burgers are second in the state only to the Lions Tap in Eden Prairie. If you are traveling on I-35 up to Duluth, the North Shore, or to the Iron Range, you won't be disappointed. The restaurant itself is only open in the summer from late March to late September, but they also have a coffee house next door that serves excellent chili and soup in the winter! They also have great onion rings, real fruit malts and yummy ice cream! And it's reasonably priced too! Once you go there, it's easy to see why they have been in business for over 40 years! I can't wait until we go up to our cabin again so we can stop there!"
"My family has always wanted to stop at Gordy's when we are on our way "up North". The food is great, the service is friendly, and it now has a fun website at www.gordys-hihat.com. There just isn't any other place that hits the spot like Gordy's!"
"My husband grew up in Cloquet, and we currently live in the twin cities. We make frequent trips during the summer, just to eat at Gordy's. ALL of the food is delicious. It's the only place that I know of that I'd eat chicken and wild rice soup when the temp is in the 80's. The fries, onion rings, taco salads, cheese burgers, and soup: DELICIOUS!!!!!!"
"Don't forget to try the fish sandwich!!!!!!!! HUGE and delicious!"
"Gordy's is my all-time favorite place to eat. I love it there in the summer. The food's sensational."